Roger Jeffries Technical Director — Transport Advisory, Australia New Zealand
Modern, integrated, functional transport systems are crucial for New Zealand's cities to thrive. Too often, transport system investment has sought to solve a transport-specific problem and been less focused on enabling delivery of the city's long-term strategic vision. Transport is an enabler of good city form and function — if not well planned and integrated, it can harm the city's ecosystem.
Today, New Zealand's cities, particularly Auckland and Wellington, are facing complex urban challenges that are putting immense pressure on communities, the environment, housing, and urban infrastructure. As a result, there is an increasing demand for space and infrastructure, as well as for the services required to meet this demand.
Globally, cities are adopting multi-modal, integrated transport systems to create safe, resilient, and well-connected transport options for people to travel across different modes and at different times. These systems not only move people from one place to another (or to many places) efficiently, but also enable housing opportunities, improve liveability, and create a platform for thriving, productive cities. Major cities like London, Toronto, and Hong Kong have some of the best transport systems in the world, integrating different modes to move people efficiently while minimising the use and need for private vehicles, especially in city centres.
Multi-modal transport systems around the world
Bordeaux, a city of comparable size to Wellington, adopted a multi-modal transport system approach focused on an initial mass transit spine, and growing a mass transit network through the introduction of light rail. Similar to New Zealand, the aim in Bordeaux was to support the future development of the city, reduce traffic congestion and reliance on private vehicles, improve sustainable travel options, and allow for improved urban amenity and placemaking.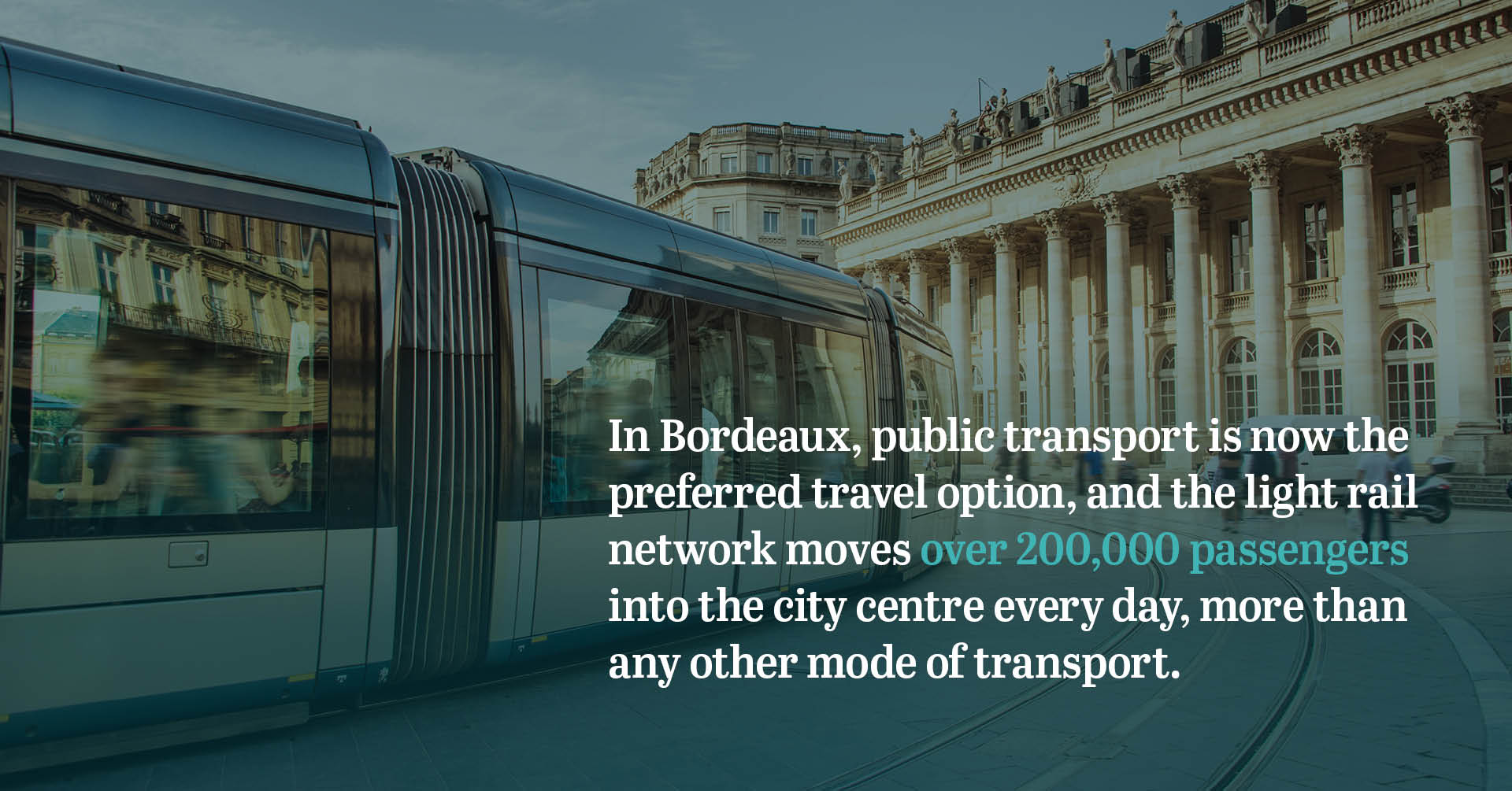 The light rail network functions as a people mover for trips between the city centre and other destinations and networks. Bus networks feed into light rail stations and transport passengers to and from the outlying areas of Bordeaux. Around the stations, significant investment in active transport amenities — including pedestrian space, urban realm, cycle paths and secured bicycle parking — further connect people to the public transport network.
The successful integration of these modes into the transport system has seen a significant increase in public transport mode share. Public transport is now the preferred travel option, and the light rail network moves over 200,000 passengers into the city centre every day, more than any other mode of transport.
The Sydney Metro North West line further demonstrates the benefits of a well-integrated multimodal transport system. While the line transports 15,000 passengers an hour in each direction, the new station precincts in rapidly-developing suburbs have become destinations themselves, enhancing the urban character of local neighbourhoods and creating places where people want to live, work and socialise.
In Bordeaux, the light rail network has further enriched the city centre by increasing pedestrian activity, supporting land release and urban growth, and enhancing its built form and public spaces.
What will multi-modal transport mean for New Zealand's cities?
Integrated, multi-modal transport systems are rapidly evolving across New Zealand's cities through programmes like Let's Get Welly Moving and Auckland Light Rail.
To reap the benefits of the Auckland Light Rail project, good planning is needed to ensure the core public transit spine is integrated with existing and future public transport networks. The project will also need to serve and enable centres for urban regeneration, including areas that form Kāinga Ora's Auckland Housing Programme, and provide opportunities for placemaking and mixed-use development along the corridor.
The success of Let's Get Welly Moving depends on ensuring investment in the right infrastructure and services, with the right modes, at the right time. Mass transit is at the core of the programme and, if the right balance is struck, people will choose to use public transit and active modes of transport, leading to reduced congestion in the city centre and enhanced liveability and productivity.
New Zealand cities need strong, integrated multi-modal transit systems to address key urban challenges. By building the right infrastructure supporting the right services, new options and benefits will be unlocked, people will embrace public and active transport, and the cities will become even more desirable places to live, work, play in, and visit.