Grant Viljoen Principal Sustainability Advisor
Integration has become a buzzword for engineering and industrial processes, but what does it mean in the context of a major infrastructure project? Stakeholder requirements on major projects have increasingly broadened from traditional engineering to include multiple environmental, social and economic outcomes.
Rail projects are now about much more than the technical aspects of delivering a rail system. They offer an opportunity to deliver impactful, targeted improvements – such as cycling and walking lanes; urban landscapes that enhance ecological outcomes; and hubs for people to work and play.
Specialist knowledge is required to achieve these aims. Disciplines such as ecology, urban design and architecture, advanced materials and durability, digital engineering, sustainability and resilience play a part. Integration means drawing on the knowledge and experience of these disciplines to embed this into an 'integrated' project that holistically reflects the sum of its parts.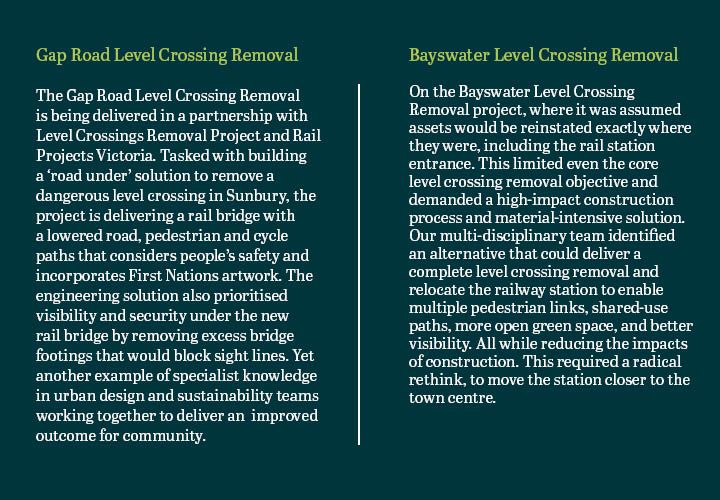 Integration can also be reflected in project governance. The Canberra Light Rail Technical Advisor has reflected the integrated nature of the project on the project's organisational chart. With a project that is as much about urban outcomes as a light rail system, the urban design team leads the project, with the design engineering team supporting the more technical aspects of the project.
The integration sweet spot is where we find opportunities that provide common benefits in cost and material savings, limit delivery impacts and result in improved urban design, sustainability, biodiversity and resilience outcomes.