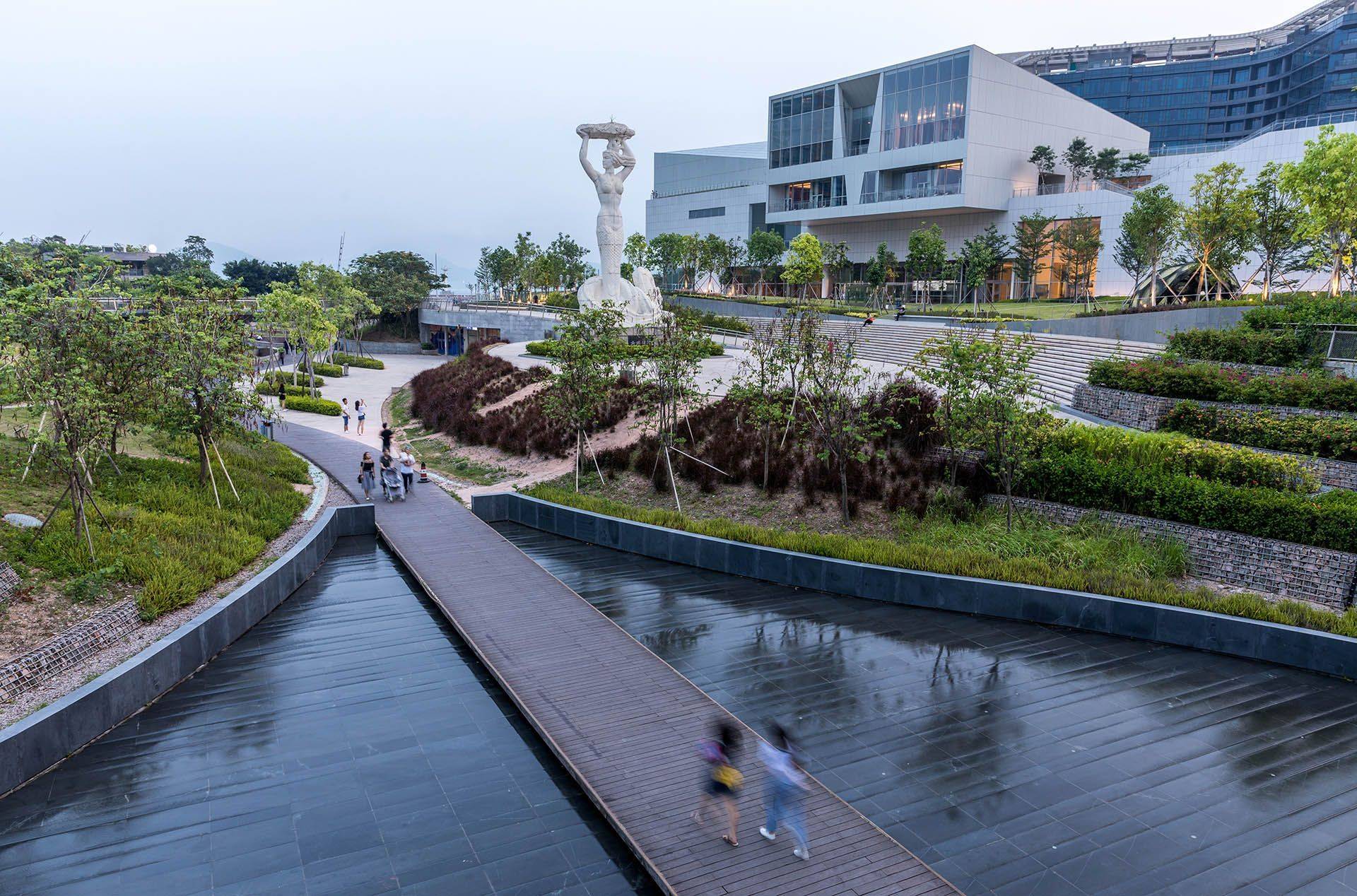 Modeling ambition in ESG
Our President Lara Poloni reflects on what we've learned a year since launching Sustainable Legacies, our ESG strategy.
How our Sustainable Legacies strategy is creating higher value
As the world's trusted infrastructure consulting firm, our ESG, or environmental, social, and governance, commitments, are central to the way we do business. We understand both the urgency of the challenges before us, and our responsibility to act in a way that benefits our clients, the communities we serve, and the planet.
When we launched our Sustainable Legacies strategy one year ago, it was a chance to set out our intentions – to demonstrate our leadership in ESG through ambitious targets and actions such as reducing our carbon emissions and advancing social equity. We also wanted to showcase our technical excellence to demonstrate to clients how we can help them achieve their own sustainability and net zero goals.
Having committed to achieving operational net zero emissions in fiscal year 2021, we set about cutting carbon across our entire business operations, including our supplier network. To improve the diversity of our workforce, we set ourselves goals to achieve a better gender balance across our organization, while looking at how we could improve on other specific and culturally relevant diversity goals. And in terms of governance, we pledged to develop a framework for assessing ESG risk in potential projects.
Every day our people come to work developing solutions to deliver on our clients' objectives and visions for a better world. In each element of our business, we take seriously the obligation as a strong corporate citizen to better our society and the communities we serve
Troy Rudd, Chief Executive Officer, AECOM
Having committed to achieving operational net zero emissions in fiscal year 2021, we set about cutting carbon across our entire business operations, including our supplier network. To improve the diversity of our workforce, we set ourselves goals to achieve a better gender balance across our organization, while looking at how we could improve on other specific and culturally relevant diversity goals. And in terms of governance, we pledged to develop a framework for assessing ESG risk in potential projects.
As we bring together one global design organization, we are better connecting the ESG expertise that we have established in so many parts of our business. We are leaders in this space and are capitalizing on our strengths to gain market share by helping our clients achieve their ambitions
Lara Poloni, AECOM
One year on, how have we fared?
Our commitments
Our strategy is designed around four themes:
embedding sustainable development and resilience across our work
improving social outcomes
achieving net zero carbon emissions
enhancing governance.
In each area, we've taken stock of our progress, identified opportunities to do more, and reviewed our objectives as a result.
1: Embed sustainable development and resilience across our work
To help clients navigate the urgent and changing demands in this space, we've launched our global ESG Advisory Services. Led by Robert Spencer, this offering supports and guides our clients through the entire lifecycle — from organizational-wide strategy through to the detail of the project-level technical ESG services required to deliver on ambitious visions.
We're also investing in new processes and tools such as ScopeX™, designed to reduce carbon impacts by up to 50 percent on major projects — from urban planning to asset management — and which promises to be our most significant contribution to win the race against the climate crisis.
To gauge ongoing progress against our strategy, we've added a new commitment: to measure these and other ESG metrics across our operations and projects. To encourage rigor and consistency across the industry, we're leading a taskforce on ESG measurement and transparency for the Sustainable Markets Initiative so that we can better assess the true ESG benefit of a project over time.
We won a prestigious award for innovation excellence from leading independent research and advisory firm Verdantix, in recognition of our work rewilding 100 acres of the Scottish Highlands. At the Innovation Excellence Awards 2022, our Natural Capital Laboratory project came top of class in the category for Sustainability Strategy Implementation.
2. Improve social outcomes
To ensure we deliver social value through our project work and operations, our teams must reflect the diversity of the clients and communities we serve. We set a target to ensure women comprise at least 20 percent of senior leadership roles and at least 35 percent of the overall workforce. We're making progress, with 18 percent women in leadership roles and 33 percent of our overall workforce being women. Supported by employee-led resource groups in our regions dedicated to equity, diversity and inclusion, we've also set a number of non-gender diversity goals this year, as relevant to specific regions and countries. To make sure we're meeting our ambitions, we've set up a global social value group to support best practice and ensure that each region of our business is aligned on these practices.
Alongside our own ESG goals, we're helping our clients deliver real social impact through strategies, services and solutions. For example, on projects such as Henvey Inlet, Canada's largest First Nation wind partnership, we're ensuring that the design and development of sustainable, climate-resilient infrastructure progresses alongside consideration of, and consultation with, impacted local communities.
From 2019-2020 our UK+Ireland business delivered c.$96 million of positive social value to the community.
Environmental Business Journal announced us winners of the 2021 Business Achievement Award for Diversity and Inclusion
Employee Resource Groups (ERG) are voluntary, employee-led organizations designed to foster a more diverse and inclusive workplace. Our ERG program includes twelve groups worldwide with more to come. Covering ethnic diversity, we have the Ethnic Diversity Network in Europe & India, and three groups in the U.S.: BeBold for Black employees, MOSAIC for Asian and Pacific Islanders, and JUNTOS for Hispanic and Latin employees. We have gender-focussed ERGs in Europe and the U.S, as well as pride groups in both regions and in Australia and New Zealand (ANZ). In Asia and ANZ, Connect groups have been set up for early career professionals, and in the Middle East and Africa we have AECOM Unity to drive employee inclusion and connection. Also on the way are groups for veterans, individuals with disabilities, and Indigenous peoples, and our early careers ERGs are expanding into new regions.
The teams have executive-level sponsorship, formal business outcomes, and charters and by-laws. They are the latest addition to AECOM's award-winning ED&I initiatives and support AECOM's ED&I pledge, "When we feel free to be ourselves, we thrive."
3: Achieve net zero carbon
In 2020, we became the first U.S.-based engineering and construction organization to set emissions reduction targets validated by the Science Based Targets Initiative (SBTi), the UN-backed organisation that defines corporate best practice in line with climate science. Our targets were to achieve 20 percent reduction in Scope 1 and 2 emissions (direct emissions and indirect emissions related to our energy use) and 10 percent reduction in Scope 3 emissions (all other indirect emissions) by 2025. Due to significant progress made on these targets, and to show ongoing leadership in ESG as part of our Sustainable Legacies Strategy, we committed to two new goals based on the latest best practice: operational net zero by 2021 and science-based net zero by 2030.
Since making these commitments, best practice has advanced and I'm pleased to share that we're again one of the first companies globally to have aligned our science-based net zero target with the new and more ambitious SBTi Net Zero Standard, released in November 2021. This means we have evolved our science-based net zero target to 2040 and are prioritizing the hard but necessary work of reducing in line with global efforts to limit global warming to 1.5 degrees Celsius. Overall, our efforts should mean approximately 1.87 million metric tons less carbon emitted.
Our new, ambitious commitments are supporting our advice to clients on setting and reaching their own targets. From net zero roadmaps to energy transition strategies and nature-based solutions, we're designing and delivering projects that meet our broader aim of creating Sustainable Legacies for generations to come.
We will be amongst the first organisations globally to set SBTi approved net zero targets and have our new net zero standard targets validated by SBTi.
SBTi recently released the first global Net Zero Standard to provide more clarity on the scientific definition of net zero. This new definition is stricter, prioritizing decarbonization over offsetting, and as a result we have revised our SBTi approved science-based targets:
Near-term: by 2030 we will reduce Scope 1 and 2 emissions by at least 60 percent, and Scope 3 emissions by at least 50 percent compared to 2018.
Long-term: by 2040 we will reduce our emissions by at least 90 percent across our entire value chain compared to 2018.
Remaining emissions: we will neutralise the remaining emissions (10 percent of all emissions) from 2040 through credible and verifiable greenhouse gas emissions removal projects.
4: Enhance governance
We've developed and introduced mandatory ESG training which provides a baseline understanding of our Sustainable Legacies strategy, and how our teams can help implement it. For those who require additional technical training and a deeper understanding to assist in client consultation, we're creating a Sustainable Legacies Academy, with nine courses covering the science and impacts of climate change, decarbonization and resilience – with more to come. To drive accountability, we're setting specific ESG goals for leadership and incorporating ESG-related key performance indicators into compensation, right up to CEO level.
Further, our global ESG Report was released in November 2021, incorporating the global disclosure standards from the TCFD (Task Force on Climate-Related Disclosures) and SASB (Sustainability Accounting Standards Board). We're reviewing our ESG-related risk framework (implemented in 2021), and developing recommendations for respective updates – including how we can better support clients transition away from fossil fuels.
A sense of purpose
Because we've been so open about our commitment to delivering projects that are not only best in the world but best for the world, we're attracting people and clients who share our vision and align with our purpose of delivering a better world. In this way, our Sustainable Legacies strategy is not only making a positive different to the planet and the people we serve: it is also improving company performance.
Only by working together with clients and partners committed to doing and being good can we continue our evolution into an organization with ESG at its heart.
Thank you for your support; we are just getting started.
Lara.